For retailers, both online and off, Halloween is a not-so-scary proposition…
Retail spending for Halloween in the United States cracked $9 billion last year, with consumers parting ways with, on average, over $85 each.
This spike in spending provides a huge opportunity to maximize lead generation and revenue during this period.
For many businesses, social media contests are a popular promotion during the holiday season. Contests are an interactive way to capture your audience's attention and persuade them to give you their contact information. This process is amplified during the holiday season because you can partner the buzz and excitement of winning something with a timebound theme or event which is trending.
If you are looking for some Halloween contest ideas to capitalize on this consumer spending frenzy, here are 6:
#1. Tap into storytelling
The holiday season, more than any other time of year, is known for storytelling.
Whether you're sharing personal stories for Thanksgiving, joyful anecdotes at Christmas, or spine-tingling tales for Halloween, stories contribute to the whole experience by drawing out emotional reactions, feelings, and memories.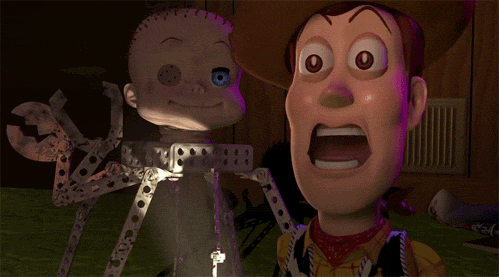 Source: GIPHY
To tap into the power of storytelling this Halloween, why not use the human desire for hearing and sharing stories in a contest? You could have participants submit a scary story and reward the best story with a prize of your choice.
#2. Run a photo contest
Whether it's the aromatic smells of fall, the frightening touch of an unexpected guest in a haunted house, or the visual recognition of makeup and costumes, Halloween is very much a visceral experience related to the senses.
Photo contests are a great way to tap into the visual aspect of this experience. Whether you have entrants submit a photo of their best costume, most realistic makeup design, or a ghost sighting – you're bound to generate interest from potential customers.
This "Fangtastic" Halloween contest from Pure Ice uses a photo contest to encourage the use of their limited edition nail polish shades:
Example of a Halloween photo contest.
View and Create Your Own
It's very common to run this kind of contest directly on social media, especially Instagram. For example, Entice Cosmetics ran a photo contest encouraging entrants to use their products to create a unique Halloween makeup look:
Halloween contest on Instagram.
For additional social proof, they even shared the best entries on their Instagram page:
Social proof generated from a photo contest.
#3. Create a themed event experience
Instead of only giving away a physical prize, you could entice contest entries by offering a Halloween event experience. After all, families and friends love getting together for a night in or a party for Halloween!
In the contest below, a Haunted House experience is partnered with Ghost Tours, the perfect Halloween combination!
A themed event experience prize for a Halloween contest.
View and Create Your Own
#4. Give away party supplies
Who wouldn't want their Halloween party fully catered or their candy bowl stocked? Much like the themed Halloween experience, you could give away supplies for a party, instead of a basic product. This is attractive for entrants for a number of reasons, plus, you extend your brand exposure beyond the initial contest interaction into a post-contest event.
The contest below is a great example of this style of Halloween contest. They are giving away popcorn, a Netflix voucher, horror DVDs, sweets, decorations, and costumes – all for a big Halloween movie night.
Halloween party supply giveaway.
#5. Re-theme your brand
When running a social media contest you'll increase the awareness and effectiveness of your campaign if it is present across multiple marketing channels. For example, you should consistently promote the contest with offline marketing materials, on your website, via email broadcasts, and on social media platforms. The more cohesive the campaign experience, the more memorable it will be for participants.
For Halloween, a cool way to achieve this multi-channel consistency is to re-theme your whole brand. Your logo, website favicon, colors, and social media banners could all be re-vamped with recognizable Halloween colors and icons.
Every Halloween, big brands are leading the way with themed brand experiences. Google, for example, will regularly change the logo on its homepage. And below, you can see an example of a Halloween-inspired Disney logo:
Halloween-inspired Disney logo.
In some instances, brands will even re-package or rename their products so that they are themed for the Halloween rush. Here is a creative example from Kinder, where they have changed the packaging, copy, and prizes for their famous "Kinder Surprise." The words "Trick or treat" are written at the top of the foil shell in Italian:
Halloween packaging customization from Kinder.
#6. Use Halloween hashtags
Holiday hashtags are a critical component for extending the reach of a contest campaign. They can also be a smart way to brand your campaign by coming up with a unique hashtag for the contest.
Here are a few reasons Halloween hashtags should be a part of your contest promotion:
They help you join trending topics and become more discoverable to potential contest entrants.
They increase engagement with your content by putting it in front of more people.
They allow you to categorize content – such as all the entries to a photo contest.
When unique to your business, they improve the strength of your brand.
In the contest below, a unique hashtag is used to capture the moments from a Halloween event:
An example of using a unique hashtag for a contest.
View and Create Your Own
Check out this unique Halloween contest on Instagram from Fancy Sprinkles which has entrants submitting photos of themed cakes. They came up with a unique hashtag #FSHorrorCakeChallenge to track entries:
Another Halloween hashtag contest example.
Conclusion
How will you make the most of the excitement and increased spending of Halloween?
If you're running a contest, take into account the tips discussed in this article:
Tap into the ancient art of storytelling to unlock emotion and connect with your audience.
Create a visceral experience by amplifying the senses of participants.
Get into the spirit of Halloween by creating themed prizes, adapting the appearance of your brand, and utilizing Halloween hashtags.
Most of all, enjoy yourself! Halloween is one of the few times of the year we're all allowed to act like kids without being judged.